Chuck Largent, the site steward of Saddle Rock for the Department of Natural Resources, sent us an email with this comment:
"For your information, there have been 3 hikers who have seen cougar tracks on the Dry Gulch Preserve in the past few weeks. You might want to inform readers that these animals are out there where folks are hiking. They follow the deer down and will be here thru the winter. Just keep your eyes open!"
For the purposes of cougar awareness and preparedness, we've published the following information from a Safety Guide to Cougars prepared by the British Columbian Ministry of the Environment.
Tracks:
Cougars have four toes with three distinct lobes present at the base of the pad. Claws are retractable, so they usually do not leave imprints.
Generally, cougars are solitary. If tracks show two or more cougars traveling together, it probably indicates a female with kittens.
Children and Cougars:
Cougars seem to be attracted to children, possibly because their high-pitched voices, small size, and erratic movements make it difficult for cougars to identify them as human and not prey.
Talk to children and teach them what to do if they encounter a cougar.
Encourage children to play outdoors in groups, and supervise children playing outdoors.
Consider getting a dog for your children as an early-warning system. A dog can see, smell, and hear a cougar sooner then we can. Although dogs offer little value as a deterrent to cougars, they may distract a cougar from attacking a human.
Make sure children are home before dusk and stay inside until after dawn.
If there have been cougar sightings, escort children to the bus stop in the early morning. Clear shrubs away around the bus stop, making an area with a nine-metre (30 foot) radius. Have a light installed as a general safety precaution.
Hiking in cougar country:
Hike in groups of two or more. Make enough noise to prevent surprising a cougar.
Carry a sturdy walking stick to be used as a weapon if necessary.
Keep children close-at-hand and under control.
Watch for cougar tracks and signs. Cougars cover unconsumed portions of their kills with soil and leaf litter. Avoid these food caches.
Cougar kittens are usually well-hidden. However, if you do stumble upon cougar kittens, do not approach or attempt to pick them up. Leave the area immediately, as a female will defend her young.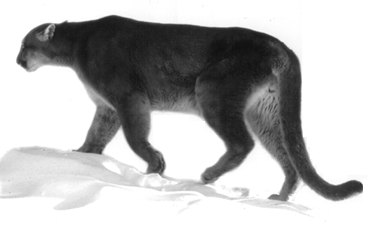 If you meet a cougar:
Never approach a cougar. Although cougars will normally avoid a confrontation, all cougars are unpredictable. Cougars feeding on a kill may be dangerous.
Always give a cougar an avenue of escape.
Stay calm. Talk to the cougar in a confident voice.
Pick all children up off the ground immediately. Children frighten easily and their rapid movements may provoke an attack.
Do not run. Try to back away from the cougar slowly. Sudden movement or flight may trigger an instinctive attack.
Do not turn your back on the cougar. Face the cougar and remain upright.
Do all you can to enlarge your image. Don't crouch down or try to hide. Pick up sticks or branches and wave them about.
If a cougar behaves aggressively: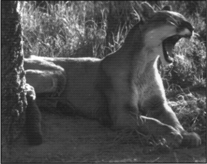 Arm yourself with a large stick, throw rocks, speak loudly and firmly. Convince the cougar that you are a threat not prey.
If a cougar attacks, fight back! Many people have survived cougar attacks by fighting back with anything, including rocks, sticks, bare fists, and fishing poles.
Photo note: All photos are stock photos and were not taken at Dry Gulch Preserve.
This article was originally published on 1/5/10.